Services
Registered Massage Therapy/Swedish Massage
A great non-invasive therapy that can assist in alleviating the physical ailments and discomforts that are associated with numerous health conditions.
Hot Stone Massage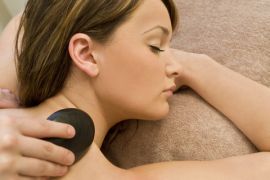 A Hot Stone Massage is performed using lava stones that have been heated to a comfortable temperature. The therapist uses the stones to massage given areas of the body, instead of using the hands. The deep moist heat component of the stones provides relaxation to the soft tissues: muscles, tendons, and ligaments. The pressure is more superficial, as deep pressure over bony areas would not be comfortable for the client.
Image: © Darrenbaker | Dreamstime.com - Relaxing Hot Stone Massage Photo
Assisted Active Isolated Stretching
This technique involves the therapist assisting the client with a great stretching technique that increases flexibility, and unlike other stretching methods, helps retain the gains that have been made to muscle length. you will be amazed by the results!
Kinesiology Taping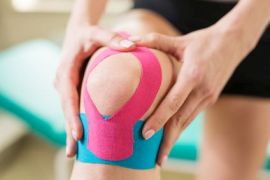 That funny bright coloured tape that you see Olympic Athletes wearing is not just for athletes! This is a great non invasive treatment to decrease swelling and pain after an injury, perfect for relaxing chronically tight muscles, helps to inhibit the continual contraction of muscle spasms, and provides excellent support for joints while still allowing free movement.
Image: © baranq | depositphotos.com - Woman Massaages Injured Knee
Scapular Stretch and Rotator Cuff Release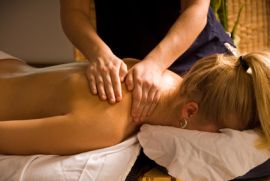 A non-aggressive treatment that is very effective for shoulder issues that have not responded well to other techniques or therapies used to treat the shoulder joint.
Image: © yanc | depositphotos.com - Shoulder Massage
Pregnancy Massage
By adjusting my techniques accordingly, each treatment is tailored specifically to the needs of the ever changing pregnant woman's body.
Infant Massage Instruction
Learn great massage techniques to relax your sweet babe, and to increase bonding. Find out when you should or should not give your baby a massage, the amount of pressure, different techniques, and the best oils to use on their delicate skin.
Image: © Mathom | dreamstime.com - Feet Massage Of Infant Girl Photo
Motor Vehicle Accidents
Many individuals who are involved in a motor vehicle accident suffer some degree of injury to their muscles and tendons. Through numerous advanced training courses that I have taken, such as: Assisted Active Isolated Stretching, Kinesiology Taping and Osteopathic Cervical Mobilization Techniques, I am well versed in dealing with your recovery needs.